Although I am mainly known as an illustrator, I occasionally write when an idea strikes. I wrote my first children's book and plan on writing more in the future. I receive lots of letters asking for my advice and publishing experience.

When I was a kid I liked reading "Dr. Seuss" and "Curious George" series because it was cheerful and fun. But my all time favorite book was "The Little Engine That Could". The motto was "I think I can, I think I can". It reminds me that I should never give up on my dreams. Most books I enjoy dispense life lessons and a sprinkle of inspiration. Luckily, our nation's desire for so many different ideas is a bottomless lake. I personally prefer to take on book projects about today's social and cultural topics. If you are passionate about your story, then you should write about it.

There are 6,000 new books each year so don't be discouraged there should be a genre for every idea. If publishing a book is your dream, I hope this page on my web site will point you in the right direction.

First, the writer sells their manuscripts to a publisher. Then the editor will then look for an illustrator whose artwork best suits the story. If I am selected, then my agent gets involved and a contract is drawn. When I am not writing my own stories, I love to illustrate for other authors. Usually authors and illustrators do not collaborate and create a book together. When I first meet an author it is at a conference or a book festival after the book has been published and available for the world to see.

Once you get a publishing contract, congratulations! Unless you have the financial freedom, I wouldn't suggest quitting your day job.

I took on a second job to pay the bills while making my first three books. I worked nights at a factory carving out belt buckles. Art supplies, rent and the everyday cost of living in New York City was and still is very expensive. Forget health insurance-couldn't afford it. I made use of the city health clinic if I got sick. Obviously I didn't have much choice in the foods I ate. My meals consisted of rice with a can of tomato sauce or if I'm lucky, instant noodles. For years I've lived the "starving artist" lifestyle.

But the hardship only fueled my determination and I truly believed that one day I will be able to do what I love for a living. Over the years the publishers knew I was passionate about each project that was entrusted to me. Now I am fortunate I can paint full-time plus have three healthy meals a day!
---
My tips for aspiring authors:
1) Find your voice, write what you like, and ask yourself "did I like reading that?"
2) Type your manuscript and double the space between the lines. Don't accompany it with your drawings unless you're an artist.
3) Have your most honest friends or relatives read it. Ask them for their critique - be open to outside suggestions.
4) There are lots of sources at the bookstore that can guide you in preparing your manuscript and finding a literary agent. I recommend the following books:
Teach Yourself Writing and Getting Published
by: Allan Frewin Jones & Lesley Pollinger
Literary Marketplace
by: R.R. Bowker
5) Familiarize yourself with a well-known writer. If their writing style or subject is similar to yours, look at the back of that book for the publisher's name and address. Mail your manuscript. I can't guarantee this will work, but to improve your chances, you should find a literary agent to assist you. I recommend this book:
Literary Agents: The Essential Guide for Writers
by: Debby Mayer
6) Once the publisher receives your manuscript a junior editor will read it. Bear in mind the publishing industry (especially children's publishing) receives thousands of unsolicited manuscripts. It may take up to a year for a response by generic postcard or letter. If rejected, learn to deal with it. Even J.K. Rowling, the author of the wildly successful "Harry Potter" series was rejected nine times before London's Bloomsbury Publishing signed her on.
7) Writing is a lonely pursuit consider joining your neighborhood children's writing community for support and encouragement. If you don't know of one contact the SOCIETY FOR CHILDREN'S BOOK WRITER AND ILLUSTRATORS, telephone (323) 782-1010. They have excellent resources and offer children's literature workshops.
---
My tips for aspiring artists:
1) Send your art to the attention of the art director at the publishing company. Include you name and address on each sample and slide.
2) If you have more than one style, show it. This will demonstrate your range.
3) Know the type of publishers you are dealing with. They will recognize that you are familiar with their publication.
4) Send a personal letter by getting the art director's name and not a generic greeting. Call and ask the receptionist.
5) Consider joining the SOCIETY FOR CHILDREN'S BOOK WRITER AND ILLUSTRATORS, telephone (323) 782-1010. They offer contact names, networking opportunities and workshops by other professional artists.
6) Never send any original artwork in the mail, it can get lost.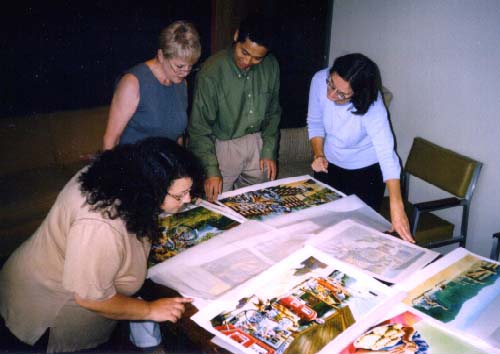 Peachtree Publishers review my art for SATURDAYS AND TEACAKES
Note: Every author or illustrator got their start a little differently. The information on this page is designed to give you a general idea of the publishing industry. These tips are informational only. No representation is made or warranty given as to their content, or expeditiousness. User assumes all risk of use. Soentpiet assume no responsibility for any loss or delay resulting from such use.
all rights reserved www.soentpiet.com ©2001