From Dark to Light
An artist paints a new life through his books &copy
For years, 30-year-old illustrator Chris Soentpiet longed for an opportunity to compensate for the life he missed out on during his childhood. When the native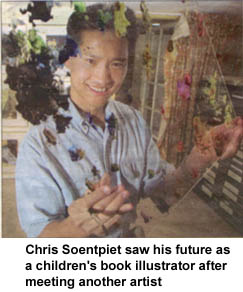 Korean was 6, his mother succumbed to cancer, and almost exactly a year later his father was killed in an auto accident. Two years after that, the boy and his 12-year-old sister were transplanted from Seoul, Korea, to Hawaii, where neither his adoptive English-speaking Indonesian father and Irish/German mother understood his language nor he theirs. Taking their four other children and the two Korean orphans, the couple moved to Oregon.

After feeling at sea for two decades, in the past seven years he has seen the publication of 13 books containing his award-winning watercolors. Two of them, "Momma, Where Are You From?" and "Where Is Grandpa?" were released recently, and two additional volumes are scheduled for the fall.

But no one can say Soentpiet's career was handed to him on a golden palette. When he was a senior in high school in Oregon, his art teacher helped him obtain a scholarship to Pratt Institute. The talented but dispirited student was required to uproot himself and relocate again, this time alone, to Brooklyn, working part time for a construction firm to finance his living expenses while attending college.

Disgruntled by his commercial-art major at Pratt, he decided to show his portfolio to a guest lecturer who was an illustrator of children's books. Ted Lewin encouraged him to pursue a similar course. "As soon as he said it, I knew this was my calling, that this was something I want to do for the rest of my life," Soentpiet says.

But a dean objected to the switch. "He said I'm not going to make any money in children's books, nor will I be guaranteed a job, that I would have a better chance in commercial art. I didn't follow his advice, but later I found out he was right," Soentpiet says.

"I lived on instant noodle soup for a long time until I got somewhere. But I also learned that when you really want something, you have to discipline yourself and go for it, no matter how difficult." In 1992, after graduating from Pratt with a bachelor's degree in fine arts, his ambitions were thwarted by 10 publishers rejecting his work.

"I began to regret that I didn't listen to the dean," he recalls, "but I thought I'll try one more." The next prospect opened its doors wide enough to publish his first book, "Around Town" (Lothrop, Lee & Shepard, 1994), about what young people can achieve on a summer weekend, which he both wrote and illustrated.

Now that his work has won acceptance, Soentpiet selects carefully from among the manuscripts he receives from publishers. He chooses to illustrate only those that depict juveniles in a well-defined ethnic and historical setting. "We have to know who we are. It's very nice to come to America and assimilate, but immigrant kids should not forget where they came from, because they can learn from their history and from the past," he says, alluding to his own desire to recapture his past.

"Chris has everything going for him," says Lewin now. "When I first met him, I saw from the illustrations in his portfolio that they belonged in children's books. I told him, 'Take this work and go that way with it.' He listened to me, and the rest is history." A story that depicts human struggle is another prerequisite that affects Soentpiet's choices. He accepts books such as "More Than Anything Else," in which Booker T. Washington is deprived of a formal education in the 1800s, when there were no schools for black children. "It is remarkable what he became as a grown-up," Soentpiet says of Washington.

The illustrator says he has declined at least a dozen proposals that didn't meet his criteria. When he agrees to illustrate a book, before he sets brush to paper, he invests considerable time in research, even traveling abroad to get a better flavor of the history of the country and period.

As his fame spreads, the artist has been invited to an increasing number of schools to demonstrate his skills and promote art appreciation. "It is good for the kids and a way for me to affect an entire school in one day," he says, adding that he speaks to about 500 children per school about 30 times a year. "If I can make a connection between why I chose to do this sort of thing, this is probably the deepest reason. I would like to have lived some of the activities I illustrate. "


--By Sorah Shapiro
Sorah Shapiro is a freelance writer
Newsday Photo / Moises Saman .
.