by Margaret Riedell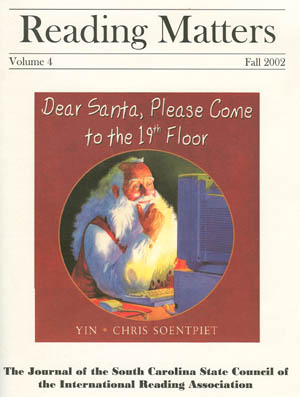 An Interview with Children's Book Illustrator Chris Soentpiet
In April 2002, Chris Soentpiet traveled to schools across South Carolina and shared his illustrations with hundreds of youngsters. This interview took place following his presentations to Schofield Middle School students in Aiken, South Carolina.
Q: When did you start drawing and painting?
A: All my life I have drawn. Ever since I was in second grade I can remember drawing. Of course I was encouraged by my teachers. I had my first contract when I was still in college.
Q: Who encouraged you to pursue a career as an artist?
A: The person who influenced me the most is a man named Ted Lewin. He and his wife Betsy Lewin came to my school my senior year in college. Ted gave a speech and I sat in the audience. I was so inspired by his artwork because he paints realistically. I wanted to get to know his artwork better. Actually, we became friends even before I came to the presentation. We worked out together at the gym. I didn't even know who he was. I said, Oh my goodness, he looks so familiar.
He's my mentor. My major was commercial art and he really encouraged me to not do graphic design. He said,I don't think you're that good at graphic design. You'll be better at children's books because you paint realistically and you do people well. He influenced me the most.
Q: Where did you study?
A: I studied at Pratt Institute which is in Brooklyn in New York City. I got a full scholarship to attend there.
Q: There's an interesting story about how you got that scholarship.
A: It was due to my high school art teacher. He took my paintings, sculptures, and collages in my senior year in high school and secretly made transparency slides out of them and sent them off to all the art colleges. And that's how I got the scholarship to attend Pratt Institute.
Q: So, he had a major influence and impact on you?
A: Yes, he absolutely did.
Q: How exactly did you start your career as a children's book illustrator?
A: From the encouragement of the Lewin's, I made appointments. I got the addresses from the placement service at Pratt and had interviews. What I did was take four of my paintings, the ones that I thought were the best. There is a drop off policy. They won't accept original artwork because they don't want to be responsible for damage so you have to give them transparencies of your artwork. Once they have that, if they like it they'll call you. Most of them don't call. (laugh) So without an agent, I literally shopped my stuff around in New York City through different publishers Lothrap, Lee, and Shepard, who are now owned by Harper Collins, actually gave me my first chance to write and illustrate. If I had to do it over again, I would actually get an agent. It would have been much easier. But what do I know? (laugh)
Q: Who are some of the authors with whom you have worked?
A: Some of the authors I have worked with are Eve Bunting, Marie Bradby, Cynthia Rylant, Liz Rosenberg, Alice McGill, Susan Newness, Haemi Balgassi, T. A. Barron, George Ella Lyon, Sharon Dennis Wyeth, Susan Nanes, and my wife of course, Yin.
Q: How many books have you illustrated?
A: I have illustrated sixteen books. I'm working on the sixteenth book now.
Q: How closely do you work with an author in creating your illustrations?
A: Most authors and illustrators don't work together. I don't work closely with any authors accept my wife.(laugh) From my past experience, the book comes out so much better when you do not get to know each other on a personal level. Most people think the opposite but having done this many times it works so much better that way.
Q: Do you do research to prepare to illustrate a book on a given topic or in a given setting?
Oh, absolutely! Researching is basically a third of my preparation into a project. Because I do a lot of historical books, they require a lot of research. I always like to go to the location where the story takes place if I can and if I can't find everything I need at the library. I do use the library for all of my books. The resources there are great. But on top of that, I like to go to the locations. Coolies, takes place from China into San Francisco. My wife Yin and I actually went to the lower part of China. For Peacebound Trains, I actually went to Korean War Museum in Seoul Korea to do the research on the Korean War. For Silver Packages, I went to Appalachia and took pictures of Cynthia Rylant's hometown, Logan, West Virginia. For More Than Anything Else I went to Roanoke, Virginia. There's a museum there for Booker T. Washington. I try to go to the locations to get the feel of the atmosphere.
Q: Do you take photographs when you are on location? Do you sketch?
A: I do both. I take photographs and make sketches at the location because sometimes the photographs can't pick up everything. Even though it looks like it can, because of certain lighting I can't control the little details. If the light is too low or the speed of the film is not right, I sketch. They are very quick sketches. I don't have to make them tight. The sketches are mostly for facts.
Q: Where are you from?
A: I'm from originally Seoul, Korea and I was adopted by an American family when I was eight and my sister was twelve We traveled quite a bit. I lived in many different places with my family because they had different businesses. So I lived in Hawaii, Alaska, and Oregon, but now I make my home right in New York City.
Q: How does your heritage influence your work?
A: My upbringing has helped me to illustrate. I'll give you an example. I was adoped from Korea so I already had my Korean life, heritage, and culture when I came to America. I learned about the American culture which is completely different. My adopted father is actually from Indonesia so he brought a lot of his own culture and my mom is German so she brought the German heritage. Then we adopted a baby brother who was Hawaiian, so it's really like a United Nations. Through my upbringing plus living at so many different locations, I saw so many different people. My short life that I had as a child, really influenced me more so than just coming from Korea. My eyes opened up to many different things. My whole life has just influenced me to paint that type of books.
A: When you take a look at the type of books that I do, they're mostly human interest stories. But even though I do many different cultures, they all have the same common thread which is the human interest story. It doesn't matter if you're rich or poor, you can still understand them.

Q: How do you decide what mediums to use?
A: The medium that I use right now is watercolor. I have tried many other mediums: oils, acrylics, gouache, pastels. You name it, I did it. But once I got hold of watercolor, there was something about it that I understood right away. I was painting in oils for so long. When I got into watercolors, something… I guess there has to be some natural ability there. But I would say it's about 20% natural ability and about 80% learned. Someone had to teach me how to paint. It's not like I was born one day and I said OK I'm a…. But you do have to have some talent You do have to have some natural eye-hand coordination. With watercolors, I think there is something in my brain that understood how water worked in a transparent type of medium. And I understood that part without being taught. I liked the way the water moved around. So, I guess I grasped it naturally.
Q: Your use of light is so distinctive. How do you achieve that effect?
A: Light in is very important to achieve a realistic look. Norman Rockwell used a lot of light. If you want to paint realistically, using light helps to make something look three-dimensional. You achieve that sort of glowing look by using light and shadow, especially shadow. You have to understand how light and shadow work and the values of colors in order to paint realistically. As an artist I have to differentiate the values of colors. So let's say I'm looking at this table and that color is brownish. This Coke (can) is a red color. I have to know the percentage of each color. So this color on the table from zero to a hundred on the gray scale, the value scale, I'm going to say it's about 60%. And then the red is a little darker so I'm going to say about 70%. So as an artist, I have to know that in order to paint realistically. The light is achieved by knowing that value. It's hard. That takes years of training to understand and learn.
Q: I've seen your presentation and you seem to do the illustration and come back at the end and insert more light. Is that accurate?
A: I start usually with the dark background. Once I pick that dark color and put it down, I can judge the values of every other color against it. So I usually try to pick a dark black and paint that first. Then looking at that I can judge everything else. If I paint very lightly at first I can't seem to judge everything else. Then once the background is done, I can go in with the layering technique which is going backwards using the light colors and adding them on top. So that's why knowing the values is very important. If you don't know values you're going to be sitting there forever. You've really got to know how to do that.
A: Light symbolizes enlightenment, of coming out of the dark. In my books, light provides a subliminal message.
Q: You and your wife have collaborated on one book, Coolies. Are there plans for additional books?
A: Yes! My wife and I have finished a Christmas book. It's actually a Santa Claus book. So many of my books have very heavy, heavy serious historical subjects. This one is just plain fun. It has a message of course but it's a very fun book that all kids and adults will like. I'm very excited about this book.
Q: When it will be on the market?

A: This November, 2002. We also we have one more book that we're working on, the Martin Luther King book.
Q: Tell me about the Martin Luther King book.
A: The Martin Luther King book has been worked on for quite some time. I'm just very flattered that the sister of Dr. King wanted to work with me. She introduced me at the San Diego International Reading Association Conference three years ago. She met me and liked my work in More Than Anything Else.
Q: Will it be a picture book or a chapter book?
A: It's a picture book. It focuses on the childhood aspect because we have seen so many books on civil rights and all those images. We all sat down and we said how can we make this book different from other books? There's no other book out there that actually focuses on and recreates Dr. King's entire childhood life in a realistic way. There have been collages or black and white photographs of their houses but never full-color paintings of their kitchen, of their living room, the Baptist church, how they actually grew up. It doesn't focus so much on civil rights but really focuses on the family. Again, I like to do human interest stories, something that everybody can understand. I like Martin Luther King and I love his message but it's really the dad who is remarkable. The book doesn't focus on him but his dad was a sharecropper who was poor. He built himself up and became this great minister who loved everybody. They grew up in the depression era, his house is immaculate, it's not poor. He did it himself and really instilled education and values.
Q: So, you've been to that location?
A: Oh, yes. I've been to the location. I've interviewed some of the King family. In fact, I'm going to tell you a little secret here. The King family's nieces and nephews are the ones that portray him because I use models. So the nieces and nephews are actually portraying Dr. King's brother and his sister, Christine. Christine's daughter is actually portraying her mother in the book, so it's all connected. I took the pictures at the Ebenezer Church where he used to preach. I brought the crew with lights and we did it right upstairs. We were sweating, six hours of photoshooting.
Q: You're working on those illustrations right now?
A: As we speak! In fact I was supposed to be done…a month ago.
A: So we can look forward to the Martin Luther King book that you are currently completing, as well as the Christmas book with your wife, Yin that will be available November 2002.
Margaret Riedell is a Professor at the University of South Carolina Aiken.
Gratitude is extended to Chris Soentpiet who so graciously completed this interview after delivering three back-to-back presentations in a very warm auditorium in April. Thanks go to Joan Stevenson of R.L. Bryan and Jane Sharp of Schofield Middle School who arranged for Mr. Soentpiet to visit Aiken and conduct this interview.